The Cincinnati Legend of Jake Speed & the Freddies
SHORT STORY VERSION:  Jake Speed & The Freddies play a mix of traditional & original folk, country blues, and ragtime tunes that muse on Cincinnati's unique past & present. Known as the Woody Guthrie of Cincinnati, Jake Speed uses a traditional folksy delivery to compose timely and timeless songs that tell great stories with a bit of a lyrical edge. The band, built out of guitar, mandolin, fiddle, tenor guitar and upright bass (with hints of harmonica, kazoo, and washboard), has been hailed by CityBeat magazine as a "…a fixture of Cincinnati's traditional Folk scene" since releasing its first of five albums, Queen City Rag, in 2002. Speed's tongue-in-cheek stories and crowd-engaging antics (such as watering can solos, sing-alongs, and dance moves) keep audiences thoroughly entertained. Just two years after hitting the Cincinnati scene, the band won the 2002 Cincinnati Entertainment Award (Cincinnati's equivalent of The Grammy Awards) for Artist of the Year. The band is now a five-time winner of the CEA for Best Folk Musicians (2001-2004; 2008). Jake Speed is a two-time winner of the CEA for Best Songwriter (2002, 2006). Cincinnati Magazine's 2007 "Best of Cincinnati" edition named the band as one of the Top 40 Best Things About Cincinnati. In 2004, the readers of CityBeat Magazine voted them Best Local Musicians.
THE WAY-LONGER-THAN-NECESSARY VERSION: Jake Speed, fresh from immense failure in the pop punk scene, listened to his first Woody Guthrie album in the summer of '99. After drinking in Woody's performance of dust bowl and hobo ballads, Jake dusted off his acoustic guitar and began a little hoboing of his own. Upon the street corners & coffee shops of Cincinnati and Dayton, Speed hacked away at old tunes by Hank Williams, Jesse Fuller, Johnny Cash, the Delmore Brothers, Jimmie Rodgers and of course, Woody Guthrie. Accompanied only by his foot-driven washboard, harmonica, and $1 kazoo, Speed refined his bluegrass-style flatpicking and Piedmont-style fingerpicking while making a few tips of spare change. 
In 2000, Speed teamed up with another vagabond folk musician, Caleb Bennett, and old friend & percussionist, Cedric Rose, to create The Corn Cob Trio (an homage to Woody Guthrie's earliest band). The three performed a few gigs at Arlin's Bar, Baba Budan's Coffeehouse, The Comet and Top Cat's before finally landing a regular Wednesday gig at Cody's Cyber Cafe in Clifton Heights. Over the next few months, The Corn Cob Trio renamed themselves The Freddies (after the acronym for the Flashing Rear End Device on the back of a train), and morphed into a just-below-average band that eventually honed the musical art of knowing when a song starts and stops.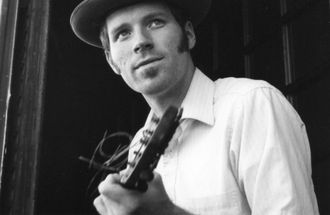 In 2001, after Bennett and Rose moved on to other projects (The Side Cars and Fists of Love, respectively), Speed accidentally joined forces with new Freddies. After playing solo as an opening act for the Hoodoo Caminos, Jake met Chris "Suga Britches" Werner who told Jake he really needed a bassist. A week later, Chris was in the band. A fortnight later, after playing as a duo at Cody's Café with Chris, aspiring mandolinist Justin "J-Dog" Todhunter (a familiar face from a brief shared tenure at Burrito Joe's) told Jake that the band needed a mandolin player. A week later, Justin was in the band. The following week, across-the-street neighbor Brad "Howe" Schnittger didn't have anything better to do on a Wednesday night, so he brought his Dobro guitar and joined Jake, Chris, and Justin at Cody's Café. A week later, Brad was in the band. Within a year, the band had a vast repertoire of original tunes, a growing group of fans and their first Cincinnati Entertainment Award as Best Folk Band.